Now are the times of momentous, memorable and truly exciting events.
The Dallas Quilt Show was only a couple of weeks past.
Here is a favorite from the showing: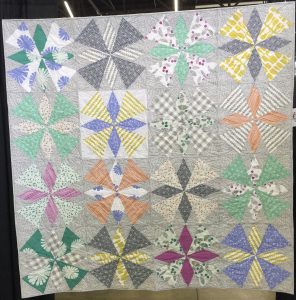 This quilt is entitled "Five Ninety Two" and it was done by Mary Beth McCormack of Keller, Texas. (You can take and share pictures but you have to attribute the quilts.) I like this one because it is an old "Pickle Relish" design pattern, and I like and have canned pickles on a farm. Quilt patterns are like that. Stuff around the farm, family and house. Other patterns are "Log Cabin" and "Wedding Rings." I am sure there are many more, and I am sure many are as down-home as this one.
But not all.
Here is a mini-quilt from this year's auction for charity: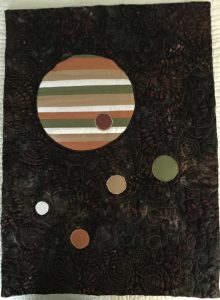 Not your traditional quilt, right? Yep, that is Jupiter, the fifth planet from the sun in our solar system; and appropriately, this little quilt is entitled "Fifth From The Sun." It was quilted by Daphne Huffman of Dallas, Texas. If you look closely, you can see the word "five" quilted in a number of languages (I counted five: French, Catalan, Spanish, Portuguese and Italian). And of course, you can see the great Red Spot giant storm on the surface of the monstrous planet. And what are those floating balls in front? You got it: the first four moons of Jupiter discovered in 1610 by Galileo peering through his telescope and named by him: Io, Europa, Ganymede and Callisto. Today, upwards of 69 moons of Jupiter have been sighted and a number of those have yet to be named. So submit your suggestions, and your choice may be emblazoned in the sky and your orb remembered on a quilt somewhere over the rainbow, way up high.
There is much that can be seen and found in a simple quilt.
Perhaps not momentous, but surely memorable.
Now it is the time for something momentous, memorable and exciting. Now is the time to remember and list the best Best Pictures of the first sixty (60) Best Pictures (1928 – 1988) – as viewed, rated and ranked by our EthnoFamilyMovieOgraphy audience. I promised I would do this, and I now share with you the listing of our top Oscar-winning films of the first 60 years of the Academy of Motion Pictures Arts and Sciences. Fanfare please. Focus your telescopes below:
1. Ben Hur (1959)
2. It Happened One Night (1933-34)
3. The Sound of Music (1965)
4. Gone with the Wind (1939)
5. Casablanca (1943)
6. My Fair Lady (1964)
7. On the Waterfront (1954)
8. Going My Way (1944)
9. The Godfather (1972)
10. Mrs. Miniver (1942)
11. The Bridge over the River Kwai (1957)
12. Gandhi (1982)
Many of you would ply the skyways and probe the planets for bounty such as this. Now you have it in your grasp. And a bonus. You get twelve (12) because the last three tied for the #10 position.
If I may, a word or two going away as we fly back to the real universe. Would this list be different for a different group? Yes, of course, perhaps. This is ethnofamilymovieography, a new and trailblazing area of study. Part of the study is to appreciate, as the lead ethnographer, the elements at play in the selection of the best Best Pictures as utilized by this particular community of viewers and by others, including the Academy voters. It appears at this stage in our study that there are three predominant elements in the evaluation of a best picture: 1) entertainment value; 2) artistic value; and 3) political value. More, of course, needs to be said about all three; but at this stage, it can be recognized that these elemental values may vary in appreciation and application between groups of viewers and the voters of the Academy of Motion Pictures Arts and Sciences. Here we truly ascend to the outer reaches of our solar system. Suffice for now to have attained the 60-picture level and to have shared with each of you the results of this ongoing study.
May you enjoy your own flights of fancy and may you find in this listing a new map for your adventures.
See you next with #61 "The Rain Man" and #62 "Driving Miss Daisy."
Until then, have a blast, watch out for the moons, and have a truly momentous, memorable and exciting time.
Astronaut Jim . . . on . . . the . . . way